Welcome to Psalms Chapter 4, another Psalm of David that has very much the same tone as chapter 3.
4 TO THE CHOIRMASTER: WITH STRINGED INSTRUMENTS. A PSALM OF DAVID. Answer me when I call, O God of my righteousness! You have given me relief when I was in distress. Be gracious to me and hear my prayer! 2 O men, how long shall my honor be turned into shame? How long will you love vain words and seek after lies? Selah 3 But know that the LORD has set apart the godly for himself; the LORD hears when I call to him. 4 Be angry, and do not sin; ponder in your own hearts on your beds, and be silent. Selah 5 Offer right sacrifices, and put your trust in the LORD. 6 There are many who say, "Who will show us some good? Lift up the light of your face upon us, O LORD!" 7 You have put more joy in my heart than they have when their grain and wine abound. 8 In peace I will both lie down and sleep; for you alone, O LORD, make me dwell in safety.
Here in chapter 4, we find David again in distress. But this time he isn't being pursued by enemies bent on killing him. He is lamenting a world that dishonors God and revels in vanity, lies, and the worship of idols.
Christians today can relate in our own lives with what David was feeling in the way we are treated by the unbelieving world around us. We see it in our governments and in the media. Our beliefs and values are mocked and we are shamed and persecuted for standing for the God that we honor.
The most recent example we see is Edmonton, Alberta pastor James Coates being imprisoned for refusing to comply with an order from the Canadian authorities not hold church services. (We can know this is not an order that is about a virus because a condition of his release is that he never set foot in his church again.)
Many in our government (and apparently the government of Canada) would love nothing more than to live in a completely secular society, devoid of God and his followers. How wonderful would it be for them if their was no "hate group" to stand in the way so that their many sins and exploits in order to maintain power could go unchallenged. Their ideal world is one of absolute evil. A world that would advocate unlimited abortion,
where transgender government officials give the thumbs up to children being put on puberty blockers and mutilating themselves,
and celebrate Drag Queen Story Hour in public libraries, and too many other atrocities to name.
This is what we are being told we must not only tolerate, but embrace. And put simply, they HATE us.
In verse 2 David asks, "How long will you love vain words and seek after lies?"
How much can we relate to what he was experiencing? It was a different time, certainly, but Ecclesiastes 1:9 also tells us "There is nothing new under the sun." Ungodly people have always sought after lives that consist of vain, empty meaninglessness. Today we see this lived out in the form of celebrity worship. Hollywood red carpet events where the stars are asked amid camera flashes and cheering fans, "Who are you wearing?" Vanity. YouTube, Instagram, and TikTok "influencers" obtain their "self-worth and purpose" from how many of their millions of followers have clicked the "LIKE" button. Empty. Athletes are treated like gods while the media all proclaim, "He's the GOAT!" Meaningless. It can certainly make us understand Solomon's proclamation of "Vanity, all is vanity!"
All of this chaotic noise around us can certainly cause us to rhetorically ask the reprobate world, "How long will you continue to live like this? Is this REALLY where you derive fulfillment?" But their father is the Deceiver and promises them the world at the expense of their own souls. And they bargain willingly with their "father".
But then we get a glimmer of hope. While the world around us is seemingly spiraling, David reminds us, "But know that the LORD has set apart the godly for himself; the LORD hears when I call to him...Be angry, and do not sin; ponder in your own hearts on your beds, and be silent… Offer right sacrifices, and put your trust in the LORD"
God has set us apart for Himself. He listens to and protects His beloved ones. Those who despise us will ultimately reap their own reward. Our focus mustn't be on the world and all that it shouts at us. While, yes, we can and should have righteous anger at the things God hates, we are told to sit restfully on our beds and ponder the things of God. This doesn't mean that we aren't sometimes to act in times of persecution. But we are to act peacefully and without sin, as earthly representatives of an unearthly Kingdom. Again I am reminded of Pastor James Coates, who preached the word of God boldly against the orders of his government, and then, peacefully and quietly, turned himself in to the authorities. And the next Sunday, another man carried on, preaching in that pulpit. Pastor Coates is acting according to the words of David: He is"offering right sacrifices" and his trust is in the Lord. Powerful words from his wife Erin say, "I read to my children the work the Lord is doing in peoples through James so they can see the sacrifice of their father is not in vain."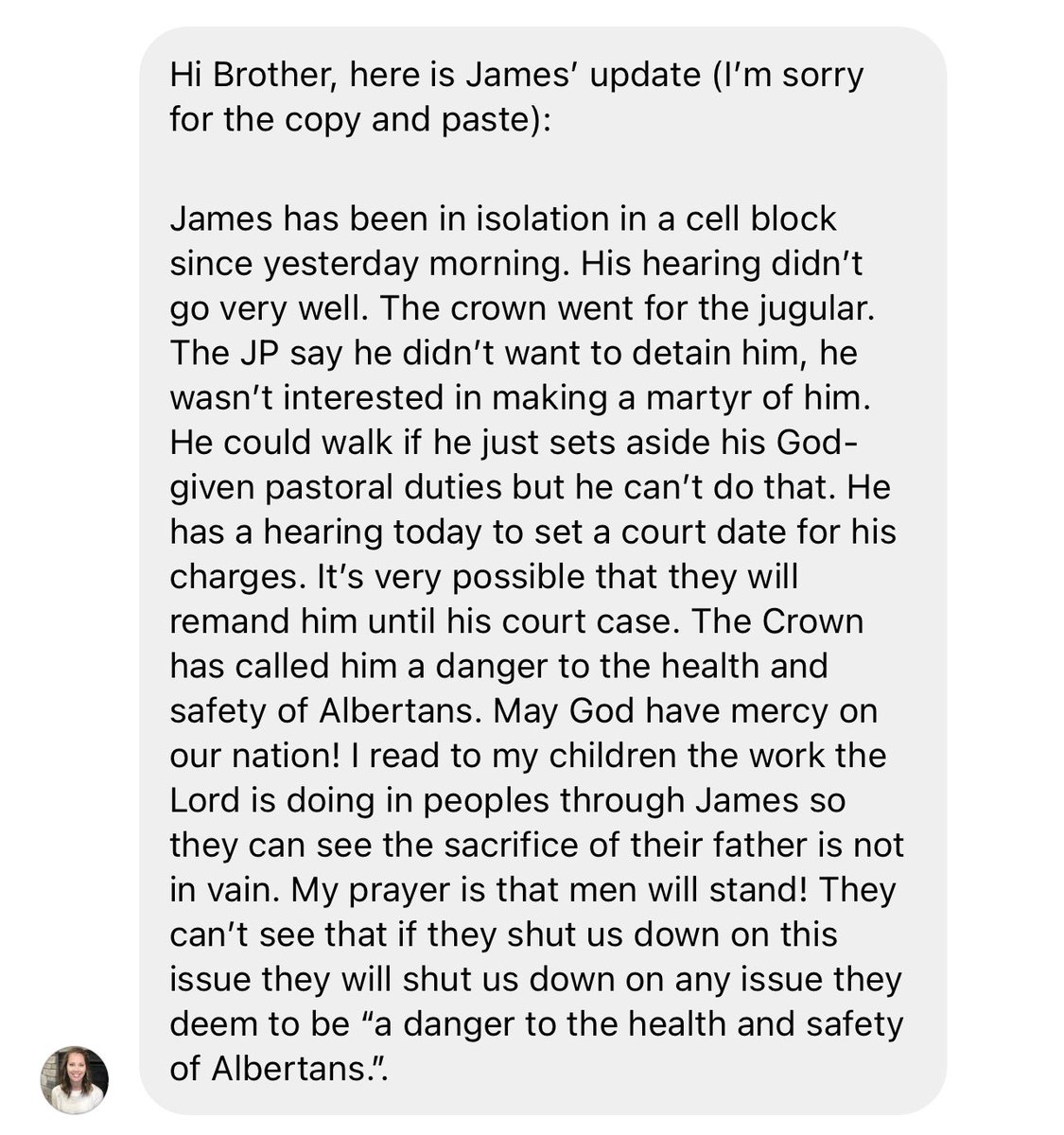 We have assurance from Psalms 4 that while the world is in chaos around us, shutting us down, canceling and persecuting us, we CAN have peace. We CAN have joy. If David were writing today, he might say, "We can have more joy than all the Hollywood celebrities, politicians, and professional athletes get from their homes, cars, yachts, and riches." We have something much better. We can lay our heads on our pillows at night and sleep in peace. Peace in knowing that He is our reward and our prize that is worth all that we are confronted with in this vain and lying world. So rest on your bed and ponder on the things of God. For in Him you dwell in safety.